Amazing! Seriously, I think this is the absolute LOOOONNNGGGEST that I've gone without posting anything. My sincere apologies. I can't possibly do a post about every thing that's been going on the past 6 weeks or so so you get just one really BIG post. How's that?
Hmmm, lessee.
Well, busy season is OVER and Jason is home much more. Thank God for that!
We had a 2nd birthday party for Jack. We just invited lots of kids over, bought tons of pizza and a huge cake and went at it. He had a great time and I still can't believe he's two!
We had Caroline's baby dedication/parent commitment at church on the lass Sunday of April. It was after church and a bit stressful. Tired toddler, tired baby, room full of folks you don't know - it'll make anyone want to tear their hair out, right? Ah well, it was quite a memory!
Caroline turned 4 months old. She's such a priss. Even her squeals and cries are dainty. She's rolling over both ways (pretty sure she was doing this at 3 months, right?), giggles, coos, blows bubbles with her massive amounts of drool, "swims" like a fish out of water when she's on her tummy, and has nearly cut her first tooth - I can see it peeking at me but it hasn't broken through just yet.
We celebrated mother's day at Jason's parents house. We had a wonderful time just being together and playing with the kiddos. Pattie made a yummy chicken fried steak meal... mmm... Emmalee made Pattie, Honey, and myself picture necklaces with the kids on them - just precious. I got an adorable card, signed in green crayon from Jack and a photo session for my gift from Jason and the kids - more on that later.
Jack's crib is officially gone and he's moved into a big boy bed. Mostly. Actually, the first night was the easiest and he's yet to take a nap in it. Bedtime is pretty difficult and I'm kicking myself for getting rid of the crib so quickly. I wish I had it back but what's done is done, you know? Anyway, we're using the pack and play for naps so Jack and I can both get a break.. We'll approach the nap issue later. I've got too much to deal with now to mess with all that.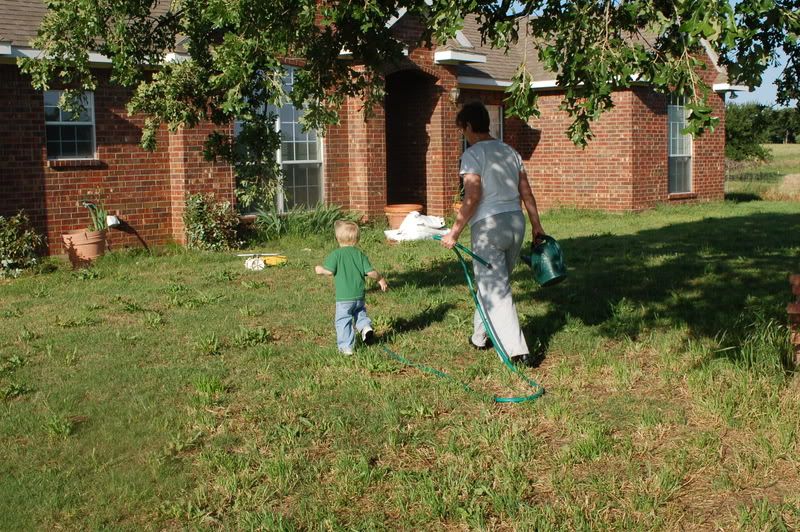 We went to visit my mom at the farm a couple of weeks ago. We had such a good time. Jack absolutely loves it up there. Every time he'd look out the kitchen window and see the cows he'd sing "E-I-E-I-O!" So cute. We took his crib up to mom's so Caroline would have a place to sleep when we visited but didn't get it set up right away. Thankfully, my mom had an old doll cradle (must be for a big doll) that rocked and Care-bear took a good 3 hour nap in it and slept in it at night till we got the crib put together! Funny!
Last weekend we had a photo shoot with Cindi from Selah Studios. She is AMAZING! She has such a way with kids and we love the pics we've seen so far. We can't wait to see the rest of them! Check out her
blog
with our sneak peeks. Ours is the post titled "And he's off!"
Annnd, Jason turned 29 on Memorial Day. We had a little family party here at the house with fajitas and cake. Jason got a big ol' air compressor and he's in L-O-V-E!
I've been struggling with whether to post about my postpartum depression. On one hand I feel like I shouldn't. It's a pretty private matter. It makes me feel like a bit of a failure (but I know that's the depression talking). On the other hand, I know that there might be folks out there in blog-land that are dealing with what I'm dealing with and can relate or offer words of wisdom and hope. Well, that definitely trumps my embarrassment for being "inferior" (I know I'm not). So, here goes... postpartum depression sucks! Period. I've been more angry, sad, short-fused, frustrated, impatient, and unmotivated than I've ever been in my entire life. The depression has had me hopeless, to the point that all I could do on a given day was park Jack in the playroom or in front of the TV and stare. My house would be chaos all around me and I could give two shakes less. Thankfully, I'm working on it. After getting help from a therapist I know that after this spring busy season that I've been running on empty. I was reduced to survival mode and wasn't living up to my too high expectations of myself - and that had me in the dumps. I now realize that I don't have to be perfect, or do everything. I just have to love and care for my kids and husband and the rest will fall into place. I have up days and down days. Today is medium. Medium is good. Enough rambling.
So, I won't promise to better about posting. I'll try but, I'll do what I can do...