This week has been an eventful one in the Maurice household. Little Jack has entered the world of sitters! He can't get there on his own but he sure can stay there. He's enjoying his new perspective on things - I guess life really is different when you can sit up. Imagine what life would be like if you were relegated to spending it on your tummy or back and the only way to be in an upright position was to rely on the use of a bouncy seat or bumbo. He's loving the new "trick" he can do!
Jack's also had his first real sickness this week. NO FUN. Especially since Mama and Daddy were battling the same bug, too. It's been an endless cycle of nose drops and bulb syringes, and kleenex and screaming. I swear, he thinks I'm trying to suck his brains out through his nose when I clear it out. If Jack would just learn how to blow when I give him a tissue we wouldn't have this problem. Anyway, we're all starting to feel a bit better and have gained some valuable experience. Hopefully we won't have to replay this week over and over during the course of this fall and winter.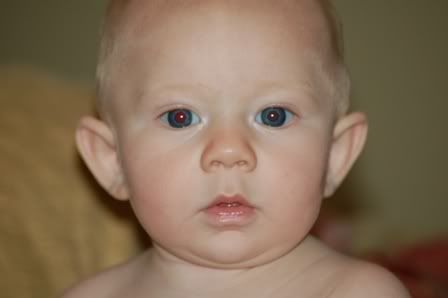 Just when we thought we were turning the corner on Jack not feeling too well he woke from a nap yesterday crying (unusual from him since he usually wakes squealing with delight). He cried and cried and cried. Hungry? Nope. Dirty? Wet? Nope. Fever? Nope. "Hmmmm... Honey? I wonder if his mouth's hurting him?" Check! We gave Little Man a cold teething ring and some Orajel and he was a happy camper (til the teething ring got warm). Oh my, this parenting bit is HARD! ...but so incredibly worth it...