You may (or may not) remember when I
redid our bedroom
a couple years back. I totally thought I was doing something really innovative with a Colonial blue accent wall and while it was different, I didn't love it. We were also making do with a lot of furniture that we had inherited or purchased when we were in college. Needless to say, our bedroom wasn't the haven we wanted it to be. Now, by all means, it isn't done yet but it feels a lot more "us" now. This whole nesting business has me needing to get every room in the house just right before baby comes. The possibility of actually delivering a baby in my bedroom definitely lit a fire under us and made us want to get down to business. Now, we need to get started on the nursery!
Nearly everything you see is from IKEA... curtains, rods (just realized you can't see those but they're great anyway), lamps, nightstands, bedding. You know I love that place! The paint is Gravity from Valspar (at Lowes). It's a very soft gray and sometimes reads light blue depending on the time of day and lighting. I think we'll probably paint it a shade or two darker sometime down the road. It's really soothing and I love it but Jason's not sold.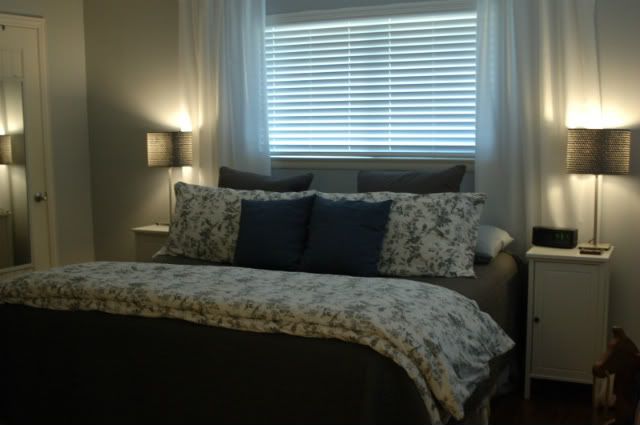 Just another angle of the bed. We've yet to find the right artwork to go on either side of the window.
The dresser is from IKEA (duh). It's actually the exact same dresser Jack and Caroline have in their room and we'll be purchasing a third for the nursery when we get around to it. Also, you can see how the paint looks blue in this picture. This wall is directly across from the bed.
So, we're really pleased with the way it's turned out but we still have a ways to go. It's so much more relaxing now though. Ahhhhh...